Auburn Players Offer Free Tickets to Local Students For "Of Mice and Men"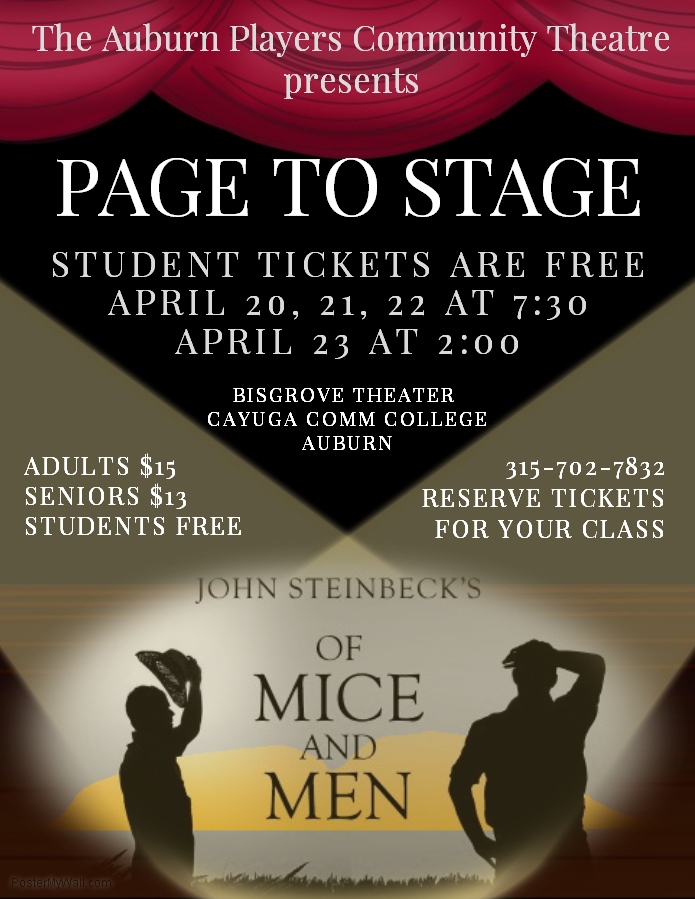 The Auburn Players Community Theatre is offering free tickets to local students.
Due to generous donations and community support, all students are invited to attend the production of John Steinbeck's "Of Mice and Men," at no charge!
Performances will be at the Bisgrove Theater at Cayuga Community College and on April 20, 21, 22 at 7:30 PM and Sunday, April 23 at 2:00 PM.
Free student tickets are available at the door, but students are strongly encouraged to call (315) 702-7832 or email productiontreasurer@auburnplayers.org
Adapted from his own novel, Steinbeck's Of Mice and Men is an essential adventure, an inspirational portrait of the American spirit and a heartbreaking testament to the bonds of friendship. Of Mice and Men tells the story of George and Lennie, an unlikely pair of friends drifting from job to job across the farms and fields of California, holding fast to their dream of one day having an acre of land they can call their own
Student tickets for ALL performance will be FREE.  Teachers and schools are encouraged to contact us to arrange for tickets.  Call (315) 702-7832
WHAT:      OF MICE AND MEN
WHEN:      APRIL 20, 21, 22 AT 7:30 PM & SUNDAY, APRIL 23 AT 2:00 PM
WHERE:   BISGROVE THEATER AT CAYUGA COMMUNITY COLLEGE, AUBURN
INFO:        CALL 315-702-7832