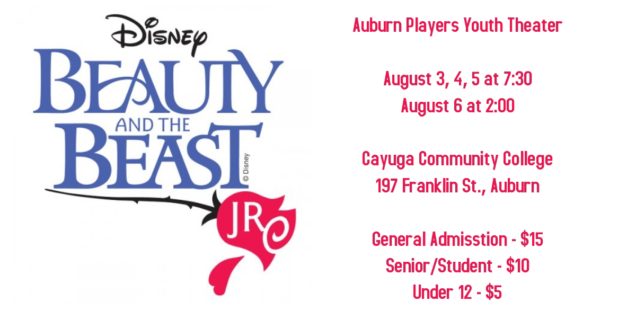 AUBURN PLAYERS PRESENT DISNEY'S BEAUTY AND THE BEAST, JR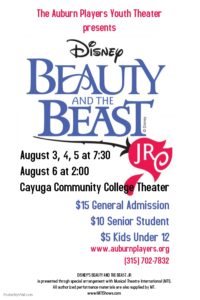 The Auburn Players Youth Theatre presents the tale as old as time, Disney's Beauty and the Beast, Jr. It plays August 3 – August 6 at Cayuga Community College Theater in Auburn.
Be swept away into this enchanted musical where Belle feels trapped in a provincial town and a prince is trapped in the body of a hideous beast. If the beast can learn to love and be loved, the spell will be broken and he will be transformed to his former princely self. This classical musical love story is a magical tale that comes to life with unforgettable characters, astonishing sets and costumes, and a stunning score including, "Be Our Guest," "Gaston," "Human Again," and the Tony-winning title song, "Beauty and the Beast."
The Youth Theater has been a summer project of The Auburn Players Community Theater for thirteen years.  Under the direction of Elisa Carabajal Hunt, the program gives local youth the chance to participate in a real musical theater production while developing confidence, self discipline and self esteem.  The students that participate improve communication and teamwork skills, while broadening their horizons through new experiences, having fun and being creative.  The program is offer to local students throughout central New York at little or no cost to the families.
Beauty and the Beast, Jr. cast includes Krista Reohr as Belle, Nolan Meier as Beast, Pat Mahunik as Gaston, Nate Azzam as LeFou, Ayden Kowalsky as Maurice, Michael Parks as Cogsworth, Benjamin Kringer as Lumiere, Noah Hickok as Baker/Msr. D'Arque, Jenna Nila as Mrs. Potts, Irelynn Vollmer as Chip, Julianna Buchmann as Babette, and Lara Yeckel as the Wardrobe.  Other cast members include Lily Nila, Charli Tallman, Erin Hagen, Bethany Lorenzo, Ella Boedicker, Kayleandra White, Campbell Loi, Mary Teixeira, Mary Nila, Abigail Shepherd, Allie Parker, Olivia Shaw, Josephine Janas, Hailey Maloney, Michael Keogan, Fiona Chisholm, Allie Conklin, Jack Noga, Henry Moskov, Carly Chappell, Annalies Hays, Jillian Scott, Grace Wiseman, Haylee Salmonsen, Emily Parks, Grace Noga, Sophia Wingfield, Grace Moskov, Donna Todd, Rose Hays, Alex Flanagan, Allison Smith, Noah Rigby, Ali Bolak, Ian Dikerson, Jocelyn LaFrance and Meghan Wilmot.
The creative team, in addition to Carabajal Hunt, includes Choreographers Heather McNeil and Nikkia Borrowski, Music Director Sherry Smith Samuel, Technical Director Chris Yeckel, Lighting Designer Joe Shepherd, and Production Stage Manager Molly Sharples.
The Disney animated feature film from which the play is based premiered in 1991 and won the Academy Award for Best Song and Best Original Score and made history for being the first animated feature to be nominated for Best Picture. The Broadway production opened in 1994 and ran for 13 years and 5,461 performances.  The Broadway production expanded upon the animated version with seven new songs. The new numbers with the help of Tim Rice were intended to bring out the sensitive side of the Beast and to underscore Belle's courage. The play was nominated for nine Tony Awards. In London, the play won the Laurence Olivier Award for Best New Musical. It has been performed in more than 30 countries reaching over 35 million theatergoers. Disney recently released a live action version of the story featuring Emma Watson as Belle, Dan Stevens as the Beast, Ewan McGregor as Lumiere.
---
JUST THE FACTS
WHAT:                 Beauty and the Beast, Jr.
WHEN:                 August 3, 4, 5, at 7:30 PM  &  August 6 at 2:00 PM
WHERE:               Cayuga Community College Theater, 197 Franklin St., Auburn.
ADMISSION:       General Admission $15, Senior/Student $10, 12 & Under $5
MORE INFO        Call 315-702-7832