Auburn Players Community Theatre announce auditions for their production of the 1960's comedy thriller "Psycho Beach Party" by Charles Busch.
Those auditioning will be asked to do a cold reading from the script, and demonstrate their dancing skills to 1960's surfer music. Roles to be filled are for 5 male, and 6 female, ages 16 to adult. Directed by Virginia Fennessy, performances are scheduled for 
October 15-18, 2015
.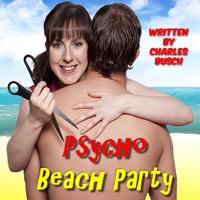 "Gidget", Frankie and Annette beach party epics, and Hitchcock psychological suspense thrillers such as "Spellbound" and "Marnie" are given a shotgun marriage. Chicklet Forrest, a teenage tomboy, desperately wants to be part of the surf crowd on Malibu Beach in 1962. One thing getting in her way is her unfortunate tendency towards split personalities. Among them is a check out girl, an elderly radio talk show hostess, a male model named Steve and the accounting firm of Edelman and Edelman. Her most dangerous alter ego is a sexually voracious vixen named Ann Bowman who has nothing less than world domination on her mind.
"Gidget Goes Berserk!" – The New York Times 
"Catch the wave of laughter." – Gannett Westchester Newspapers
"Hilarious" – Gannett Newspapers