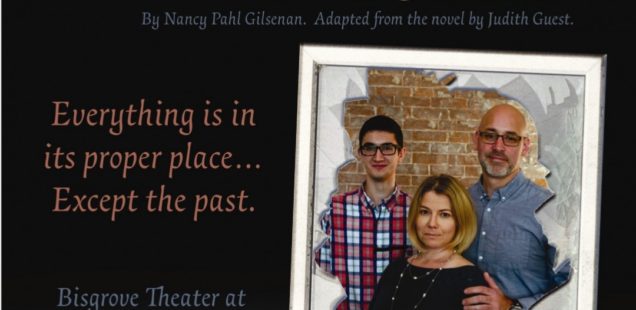 ORDINARY PEOPLE – TICKETS ON SALE NOW
Everything is in its proper place…
Except the past
Directed by Stephen Gamba, Ordinary People tells the story of one family's struggle to cope after two traumatic events: the accidental drowning of one son, and the attempted suicide of the other. We are dropped into the story over a year later, when the surviving son is returning home after being committed to a mental hospital and the family is struggling to return to a sense of normalcy.
Adapted from Judith Guest's landmark 1976 novel that famously inspired the multiple Oscar-winning 1980 Robert Redford film, the story holds up well in today's more jaded times. The story still resonates.
Show Dates/Times:    October 12th, 13th, 14th at 7:30, and Sunday, October 15th at 2:00.
Where:    Cayuga Community College – Bisgrove Theater, 197 Franklin St, Auburn
Tickets:    $13 (Senior/Student) – $15 (General) – Thursday Nights are 1/2 price
Call:    (315) 702-7832 or visit showtix4u.com